Our Story
TAVOLINO DELLA NONNA & TAVOLINO DELLA NOTTE restaurant & Lounge in coral springs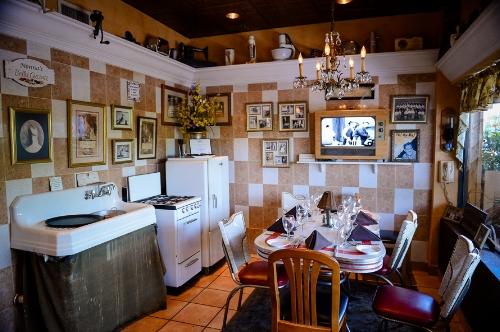 "Little Table of our Grandmother"
Our earliest memories of growing up in a big Italian family are the aromas of Sundays and Holidays. Most of us were especially blessed to live downstairs, next door or nearby to Grandma. Every Sunday, "Nonna" would let us help her make her delicious meatballs and sauce. Around "Nonna's" table (tavolino), we learned to value both the love of family and the appreciation of good food.
"Tavolino Della Nonna" is the result of years of hard work and a dream to honor our grandmothers. Our vision was to base an Italian restaurant around the concept of Grandmother's Table, where people would be able to come and experience a unique combination of Nouvelle cuisine intertwined with Grandmother's home-style cooking. Upon entering Tavolino, you will be greeted with our homage to "Nonna". An original table from generations ago is the centerpiece of a kitchen reminiscent of a bygone era. A touch of "Nonna's" love is not only in the air, but in every dish. We want to make your meal a special time of sharing and making memories just as our Grandmother did for our family. So now, we invite you to have an outstanding dining experience and carry on our tradition at my "Grandmother's Table".
As we brought live entertainment into the mix, Tavolino Della Notte was born
As we brought live entertainment into the mix, Tavolino Della Notte was born. "Notte" is Italian for "Night". At Tavolino Della Notte, we offer exciting and different entertainment options for every night, such as world class musicians, jazz bands, comedy nights, ladies nights & latin nights. We have the BEST HAPPY HOUR IN BROWARD COUNTY Tuesday to Friday from 4 to 7pm, where select drinks & appetizers are 1/2 price in the bar and cocktail lounge. We host amazing private events, and have accommodations for every size, ranging from intimate dinners to weddings & larger parties. Private rooms available. For more information on booking events, contact Christina at 954-509-0046 or christina@tavolinorestaurant.com